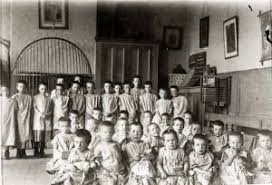 "At the Overseer's Door: Suffolk Workhouses" with Ray Whitehand
AT THE OVERSEER'S DOOR

The February meeting of the Group was held at Kelsale Village Hall, where Ray Whitehand gave a talk on the parish workhouses of Suffolk.  A native of Pettistree, Ray has dedicated many years of meticulous research to unearthing the history of these institutions, which owed their origins to the Poor Relief Acts introduced during the reign of Queen Elizabeth I.

Bringing a relaxed style matched with gentle humour, Ray entertained a near capacity audience of 80 with a thought-provoking overview of the harsh economic conditions and 'grinding poverty' that gave rise to the workhouses and the basis on which they operated.  He ended with some colourful stories about the lives of specific 'inmates'.

Among these insightful narratives, we learned of the plight of one Jacob Dedham, at one time an inmate of the workhouse of Ipswich, St Mary.  Described as a 'source of much anxiety and trouble to the authorities', he was sent away with one shilling in his pocket to try his fortune with the world.  Making his way to London, he then worked his passage to the East Indies where he secured employment as a spy for Lord Cornwallis.  Subsequently married to a wealthy widow, he was ultimately forced to return to England by his many enemies and, having been found lying in the porch of St Mary at the Elms, Ipswich, was in danger of being committed as a vagrant.  However, he was spared this fate upon the intervention of a Mr Bacon, who raised a subscription for him.  With this backing Dedham went on to earn a decent livelihood as a sketching artist.

The parish workhouses were eventually replaced by the centrally governed Union Workhouses introduced with the Poor Law Amendment Act of 1834.  However, it was interesting to learn that many of the buildings housing the original parish workhouses, many of them Guildhalls, still exist.  It was also suggested that Kelsale Village Hall now stands on the same site occupied by the original Kelsale workhouse.  For anyone interested in learning more about these institutions, Ray Whitehand's publication "At the Overseer's Door" provides accessible and fascinating details about many of the 217 Suffolk parish workhouses identified during his ongoing investigations.


Chris Broom